Engineering students recently had the opportunity to showcase their artistic side as part of the Samuel Ginn College of Engineering's Inclusion and Diversity Committee's inaugural design competition. The competition was launched to complement the Engineer Together initiative in an effort to increase awareness of inclusion and diversity activities within the college. Entrants were asked to visually depict what Engineer Together means to them.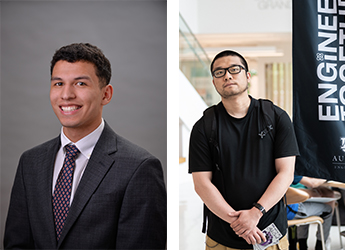 Tony Pereira, a junior in mechanical engineering, and YiFan Zhang, a junior in electrical engineering, earned the top two prizes in the competition respectively, which was sponsored by Southern Company and Brasfield & Gorrie.
The contest was open to all engineering students, engineering student organizations and non-engineering students who teamed with a student in the College of Engineering. Pereira partnered with graphic design student Lauren Bistritz on the winning design, which will be featured on promotional materials over the course of the next year. 
"Our committee was pleased to see the various ways our students interpreted the meaning of Engineer Together," said Jessica Bowers, career development and coaching manager for the Engineering Office of Career Development and Corporate Relations and a member of the Inclusion and Diversity Committee. "We hope students continue to engage with Engineer Together and embrace the value of engineering together during their time here at Auburn and out in the real world."
Media Contact: ,
cmontgomery@auburn.edu
, 334.844.3668