Researchers in electrical and computer engineering earn IEEE Best Paper Award
Published: Nov 18, 2022 11:00 AM
By Joe McAdory
Researchers in electrical and computer engineering at Auburn University have shown that data — sometimes sensitive information — is not lost when static random access memory (SRAM), also known as a semi-conductor memory, is powered off. Instead, data written to SRAM chips is permanently stored and can be partially retrieved.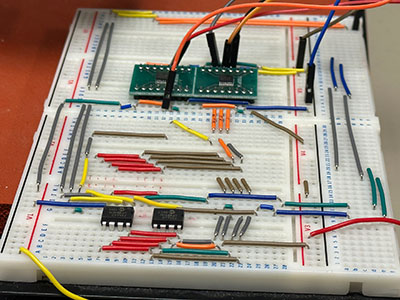 "Strong consideration must be taken by industry and defense before throwing them out," said Ujjwal Guin, assistant professor in electrical and computer engineering. "This information can be very sensitive if the chip has been used in a critical application and can be important to an adversary. "As aging permanently leaves an impression on the power-up state, we knew we could recover old data, and we begin to explore how to do that."
For their study, "Beware of Discarding Used SRAMs: Information is Stored Permanently," Guin and electrical and computer engineering graduate students Joshua Hovanes and Yadi Zhong, were presented with the Best Paper Award at the IEEE International Conference on Physical Assurance and Inspection of Electronics (PAINE) Oct. 25-27 in Huntsville.
"Recognition from this conference is a great honor and validation of our hard work," said Guin. "Graduate students here in electrical and computer engineering at Auburn are provided with impactful cutting-edge research projects which develop their skills as they advance through academia and into the industry.
"The objective of this work sheds light on the importance of standardizing memory sanitization protocols that can truly protect sensitive information from being unintentionally leaked to potential adversaries."
SRAM is a super-fast semiconductor memory used as an intermediary between a processor and dynamic RAM (DRAM), which is slower to react. SRAM is commonly referred to as the cache in a processor, and in some devices, the primary DRAM might be entirely replaced by SRAM if the need arises.
But the SRAM memory issue remains.
"When a SRAM chip is powered on, all the memory locations are filled with random binary values of either 1 or 0," said Hovanes. "This is due to the perfect symmetry of the back-to-back inverters in an SRAM cell on which random process variation and noise play an important role during the power-up. However, this is likely skewed when a chip has been used in the field."
Guin said, "Our approach extracts the impression of the data used during the normal operation in the powerup state of an SRAM, and thus determines the original content. This is the first work on data recovery from a recycled SRAM chip."
Media Contact: ,
jem0040@auburn.edu
, 334.844.3447
From left, graduate student Josh Hovanes, assistant professor in electrical and computer engineering Ujjwal Guin, and graduate student Yadi Zhong.
Featured Faculty