Doctoral students in electrical engineering also award-winning nano artists
Published: Apr 21, 2022 2:33 PM
By Joe McAdory
Parvin Fathihafshejani and Adib Taba are more than doctoral students in electrical engineering.
They're also award-winning digital nanoartists.
The team's creation, "Miniscule Beach," was selected as one of the Best Science Images of 2021 by Nature, and took third place in the Nanoartography 2021 competition, which garnered more than 100 submissions worldwide.
"We have always been amazed by beautiful art, in general, and nanomaterials," said Fathihafshejani. "Working in an engineering and scientific field does not mean that you cannot enjoy art. If you love art, you can see it almost everywhere, even at the nanoscale."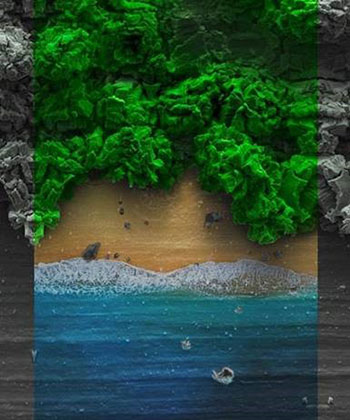 Both students are active within the Lase-end Research Group, under the direction of assistant professor Masoud Mahjouri-Samani, working on interdisciplinary projects where electronics, photonics, mechanics and other sciences join to solve new problems.
Taba, who specializes in laser-based additive nanomanufacturing, noted while they are avid researchers, art and research share common denominators.
"Someone can consider the research as art where human creativity and innovation lead to high-quality, impactful results, and those results are represented by papers and images," he said. "We are interested in art with an engineering background, and we are always interested in connecting the engineering and art world together."
Fathihafshejani, who specializes in laser-based nanomanufacturing of nanomaterials for bio and energy applications, developed the idea for "Miniscule Beach" during her second semester at Auburn while synthesizing 2D material with laser processing.
"I have always been astonished to see beautiful and inspiring nanostructures," she said. "For this project, I used laser-assisted nanomanufacturing techniques to design novel hierarchical 2D materials architectures (the jungle), and on flat surfaces (the beach). This can be used in energy applications, such as catalysis and energy storage devices. Then, the image was taken from the sample by scanning electron microscopy where the image width is .254 millimeters. Colors were added to the image by digital art to bring the images to life.
"After taking the images from the samples, we saw amazing structures that were quite inspiring, and we could see a lot of beautiful imaginary artwork indeed. More particularly, the first look into these specific structures reminded us of the scenic drone footage of a beautiful beach."
Media Contact: ,
jem0040@auburn.edu
, 334.844.3447
Parvin Fathihafshejani, left, and Adib Taba.
Render