Professor in aerospace engineering wins unprecedented third Zarem Educator Award
Published: Feb 24, 2023 12:05 PM
By Staff Report
In his 10th year at Auburn University, Joe Majdalani, the Hugh and Loeda Francis chair of excellence and professor of aerospace engineering, received the prestigious Abe M. Zarem Educator Award for an unprecedented third time.
Presented by the American Institute of Aeronautics and Astronautics (AIAA) at the recent SciTech '23 Forum in National Harbor, Maryland, the award is given to only two faculty members, one in astronautics and another in aeronautics, who have demonstrated a substantial degree of effectiveness at guiding students toward excellence.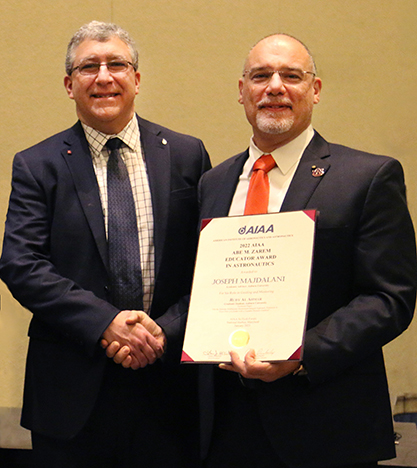 "Being the best student-centered engineering experience in America starts inside the classroom," said Steve Taylor, Auburn University Samuel Ginn College of Engineering interim dean. "We are honored to have the AIAA recognize Dr. Majdalani for his work with our students in preparing them for the future."
Since joining the faculty at Auburn in 2013, Majdalani has advised a cadre of undergraduate and graduate students who have earned a total of 46 local and national awards. Among them are Langston L. Williams (2017) and Rudy Al Ahmar (2022), Auburn's recipients of the Zarem medallions in astronautics and aeronautics, respectively. 
What's the recipe for his students' performance?
"Compelling research ideas, exceptional writing and graphics, thorough proofreading and multiple rehearsals," said Majdalani, who also won the award in 2012 and 2017.
By conceiving high-quality manuscripts and presentations before releasing them, Majdalani's students have garnered eight best paper awards at the national level and 13 best paper presentations at the annual AIAA Southeastern Regional Student Conference.
In addition to the three Zarem papers, which were recognized as the finest overall in the seven regions of the AIAA, the remaining nationally-selected articles consist of "Solid Rocket Motor Internal Ballistics with a Surface-Vorticity Solver," "The Taylor-Culick Profile for Spinning Rocket Motors," "Improved Mean Flow Solution for Solid Rocket Motors with a Naturally Developing Swirl Motion," "Improved Mean Flow Solution for Solid Rocket Motors," and "Nonlinear Rocket Motor Stability Prediction: Limit Amplitude, Triggering, and Mean Pressure Shift."
A recent Stanford study investigating the net research impact of various scholars identified Majdalani as one of the most cited engineering researchers at Auburn. With more than 18,000 citations in propulsion and aerodynamics, Majdalani was ranked in the top 0.8% of all aerospace engineering researchers and 0.18% of all technologists worldwide. 
"The research that we perform is clearly leaving a global footprint," Majdalani said. "I am absolutely thrilled to explore cutting-edge problems with several exceptional colleagues, starting with Dr. Roy J. Hartfield, our in-house propulsion expert. Most of our technical papers, especially those with the most impact, have been the result of teamwork by highly motivated students. Their recurring accomplishments reflect the scholarly strength of the Samuel Ginn College of Engineering faculty and students, what no one can ever take away."
Majdalani's interests span the areas of internal aerodynamics, acoustic instability, swirl dynamics, and singular perturbation theory. His 325 publications include one classic-series McGraw textbook, 104 journal articles, five book chapters, 200 conference proceedings, and 15 year-in-review articles. His effectiveness as a research mentor has attracted several noteworthy awards that have brought tremendous recognition to Auburn University. These include the highly competitive ASEE/AIAA Leland Atwood Award (2018), the Sustained Service Award (2016), the AIAA Foundation Faculty Advisor of the Year (2015), and the Konrad Dannenberg Educator (2014). 
Media Contact: ,
jem0040@auburn.edu
, 334.844.3447
Joe Majdalani, center, with all three Abe M. Zarem Educator Award certificates, presented by J.D. McFarlan, left, vice president at Lockheed Martin, and Basil Hassan, AIAA president.
Featured Faculty