More than 700,000 cyber-related jobs in the U.S. remain unfilled. Frank Cilluffo, director of the McCrary Institute for Cyber and Critical Infrastructure Security at Auburn University, joined a team of private sector executives, cabinet members, federal agency leaders, and university presidents on Wednesday in Washington to explore possible solutions to the problem. 
The National Cyber Workforce and Education Summit, hosted by the White House, served as a call to action and charted "a path toward a more secure future in which Americans have the opportunity to raise the bar on cybersecurity through greater awareness, education and training."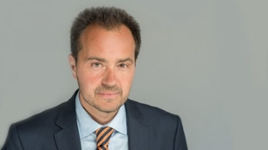 "This is one of the most significant security challenges facing the United States today and universities have a unique opportunity and dare I say responsibility to rise to the occasion," said Cilluffo. 
The Summit's focus areas included:
Prioritizing new skills-based pathways to cybersecurity jobs, including at community colleges, through registered apprenticeships, and via non-traditional training opportunities for Americans who can help defend the nation while making a good living. Training models such as registered apprenticeships allow career-seekers to earn and learn while obtaining college credits, degrees, and a nationally recognized credential.

Build pipelines for historically untapped talent, including the underserved and diverse communities.

Discussion of how investing in cyber training and education could enable Americans to be successful in a digital economy and empower society to harness cyber capabilities to achieve individual and collective aspirations.
Convened by America's first National Cyber Director Chris Inglis, other senior governmental officials included Cybersecurity and Infrastructure Security Agency Director Jen Easterly, and Anne Neuberger, the deputy national security advisor for cyber and emerging technologies. As well as the Secretaries of Homeland Security, Commerce, and Labor, and Under Secretary of Education.  
Kicking off this 'whole-of-nation' strategy as described by Inglis, "The task ahead of us is as immense as it is important, and no one of us alone can take it on – it will take a combined and coordinated effort from government, academia, trainers, and employers to help ensure we meet the moment."  
Cilluffo added, "It was a privilege to participate in the summit and Auburn is poised to be a part of the solution."  
Media Contact: ,
jem0040@auburn.edu
, 334.844.3447