Members of the Auburn University Rocketry Association (AURA) are prepared to soar.
The aerospace engineering student organization will compete against peers from dozens of other universities in a pair of prestigious launch/flight events this month – the Argonia Cup, April 9-10, near Kansas City, Kansas, and the NASA University Student Launch Initiative (USLI) on April 23 in Huntsville.
The Argonia Cup offers an interesting challenge where teams must launch respective rockets higher than 8,000 feet, drop a golf ball close to a predetermined target and safely recover the payload. USLI involves weeks of design proposals, interviews and inspection/milestone checks highlighted by a day of competition that requires teams to launch rockets between 4,000 and 6,000 feet.
AURA finished in 12th place out of 76 teams last June at the prestigious Spaceport America Cup in Alvin, Texas.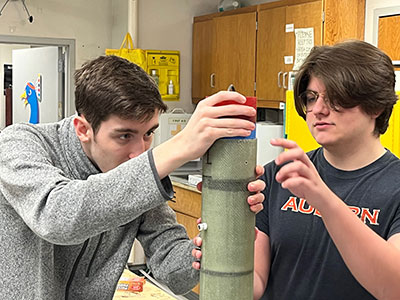 "Being a part of rocket competitions, and aerospace engineering as a whole, has been amazing for me academically and could play a huge part in achieving my career aspirations," said Maggie Nelson, a junior who serves as an AURA team lead. "Being involved with AURA, you learn many skills outside the classroom that you can apply to your classes. Our organization has so many students with different aerospace skillsets, and it's a great opportunity to make friends and learn from multiple backgrounds.
"Involvement in these competitions, especially USLI, gives us the chance to constantly interact with NASA representatives, learn from them, and justify our work to them. It's really a great networking opportunity that could result in internships or jobs."
At the Argonia Cup, where nearly $7,000 will be shared by the top three teams, AURA's rocket – built inside Davis Hall -- will separate in mid-flight, where a fixed-winged plane will emerge from the nose cone and drop a golf ball above the target.
"We're essentially playing golf with a rocket," Nelson said. "The closer your payload lands to the target, the more points you get. Reaching an apogee of more than 8,000 feet is a bit higher than we normally go."
Whereas the Argonia Cup is a high-tech "closest to the pin" competition, USLI requires teams to submit lengthy proposals to its engineers – including vehicle design, payload, vehicle recovery subsystems, and mission performance predictions.
A critical design review is presented to a panel comprised of scientists, engineers, safety experts, education specialists and industry partners. The team is expected to present and defend the final design of the launch vehicle and payload, proving the design meets the mission objectives and requirements and can be safely constructed, tested, launched, and recovered. Once approved, teams were allowed to proceed with the construction and verification phases of the life cycle that culminated in a flight readiness review.
Once these objectives were met, rockets are "go for launch" but expected to meet predetermined flight predictions made by each respective team.
USLI offers a variety of team awards, including overall and runner-up winners, best STEM engagement, most active/creative social media presence, altitude, rocket appearance, team spirit, safety, vehicle design and construction, and public engagement), and best implementation of 3D printing.
"We look forward to both competitions, where we can prove that our hard work paid off," Nelson said. "This is a great opportunity to represent aerospace engineering at Auburn and learn from peers and the professionals involved in the competitions."
Media Contact: ,
, 334.844.3447