Computer science and software alumnus part of winning Tiger Cage team
Published: Mar 25, 2022 3:28 PM
By Joe McAdory
The eSports industry accrued more than $1 billion in revenue last year with major sponsors accounting for a hefty slice of the pie. But there's a problem. Most sponsorships are event or partnership-related and do not utilize the benefits of live-streaming.
Emmett Deen, a 2019 graduate in computer science and software engineering, and Jacob Cordero, a student in business administration, have the answer. The team co-founded IGNTE, a web-based platform that streamlines the process for live-streamers to display graphics, create engaging sponsorships, and increase affiliate links. Thus, increase revenue.
A panel of 11 industry professional judges believed in their idea so much, IGNTE walked away with first place at Friday's Tiger Cage Business Idea Competition – Auburn University's largest entrepreneurship event. The pair was awarded $25,000 in early-stage startup capital and another $5,000 legal services in-kind bonus from the law firm Burr & Forman, LLP.
"These awards give us the runway to do more of what we know is working, which should hopefully generate recurring monthly revenue," said Deen, a mobile app and web developer at Black Airplane, a digital product design and development firm in the Atlanta area. "We're going to use this to get more people on our platform and we've already started optimizing our marketing strategies.
"Working at a software agency, I've had the opportunity to build many types of software and its applications, so you learn with every new project that you build. But I still learned a lot throughout the Tiger Cage process with IGNTE. This wasn't our first iteration, and it won't be our last. One thing I've learned in engineering is we're constantly improving and trying to hunt down the best product market fit every day."
In its eighth year and presented by the Harbert College of Business, Tiger Cage provides students with business plan development opportunities from mentors and seasoned entrepreneurs throughout the fall and spring semesters that culminate in quarterfinal, semifinal and final round live pitch competitions before judges. Engineering students have won seven times.
Second place and $12,000 went to Best Roping Dummy, a roping simulator presented by agriculture communications senior Will Jordan, who earned an extra "special award" of $4,000 presented by the Thomas Walter Foundation. Jordan's runner-up prize, however, came with an engineering spin.
Upon drafting and designing a robotic-like bull, Jordan needed expert advice. Enter Thaddeus Roppel, associate professor in electrical and computer engineering and Auburn Student Projects and Robotics Club (SPARC) faculty advisor.
"I asked Dr. Roppel if what we designed was feasible," Jordan said. "I presented the design and then pitched the idea to him … explaining what team roping was. He reviewed our design and said, 'yeah, absolutely this will work. This is solid.' From then on, I've had a sticky note on my wall with his quote. 'This will work'. That's validation from an engineer. That's also having good folks here at Auburn. They're willing to help. Auburn men and women believe in Auburn and love it, and they believe in helping other Auburn men and women succeed."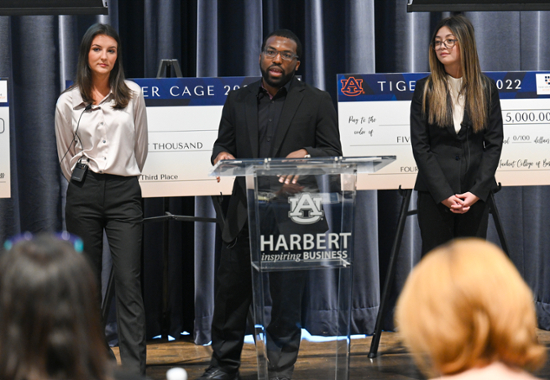 Tied for third place and winning $7,500 were computer science and software engineering students Jesse Stewart, Brooke Hopton-Jones and Sydney Pham's startup is Toft by 2153. It's application, Virgo, allows video gamers the opportunity to make money while playing. Also tied for third place and winning $7,500 was Feature Finder, a social music platform designed to revolutionize the streaming music industry, created by business students Zane Barbao and Luke Matthews.
Deen was happy to be part of Tiger Cage and cherished the program's learning opportunities.
"Tiger Cage has given Jacob and I more insight into what we need to be doing moving forward," he said. "Just the iterative practice of improving our pitch has also really helped on the sales side, talking with customers. It's helped us smooth out pretty much everything that we need to say and now we can communicate in a simplified and concise manner, which leads to even more interested customers."
Mark Forchette, CEO of Delphinus Medical Technologies and director of the Auburn University Foundation, floated the idea of creating a student business pitch competition nine years ago. He beamed over its progress.
"Skills you need as an entrepreneur are unique and require intense development," said Forchette, who served as the event emcee. "I felt it was essential to intensify our training for students on best-in-class entrepreneurial processes so they would be ready for the world they would compete in after graduation.
"Tiger Cage is now an essential part of Auburn's entrepreneurial ecosystem and is producing outstanding entrepreneurs with a unique Auburn authenticity and flavor."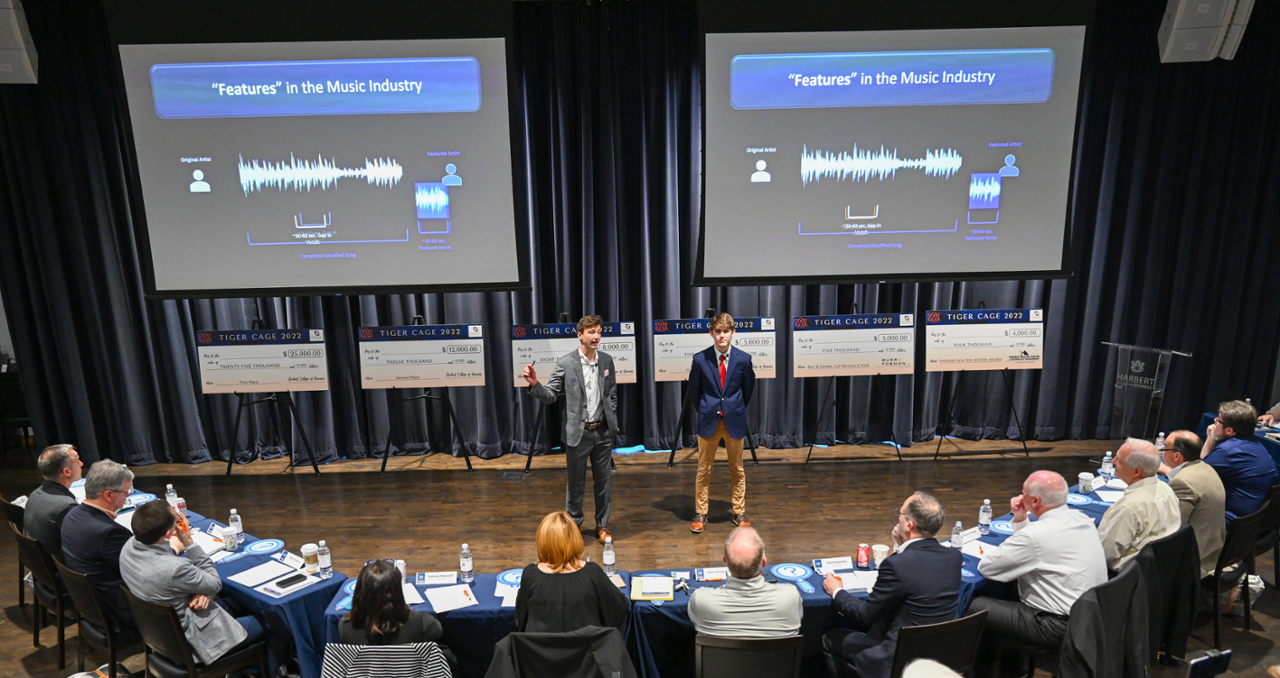 Media Contact: ,
jem0040@auburn.edu
, 334.844.3447
Emmett Deen, left, and Jacob Cordero earned the first-place prize of $25,000 and another $5,000 legal services in-kind award from the law firm of Burr & Forman, LLC.