Online graduate students create rehab-fitness device, win university's Halloween Pitch Competition
Published: Nov 2, 2023 8:00 AM
By Joe McAdory
Auburn Engineering online graduate students Holli Michaels (engineering management/product innovation) and Courtney Montague (computer science and software engineering) created a fitness device that corrects lumbar position during core strength exercises — empowering trainers and healthcare professionals to monitor subjects through visual and sensory feedback.
Their co-founded startup, AbGlo: Six Pack/Strong Back, impressed industry professional judges enough to win first place and $2,000 in Auburn University's fifth-annual Halloween Pitch Competition on Friday, Oct. 27, presented by the New Venture Accelerator and Harbert College of Business.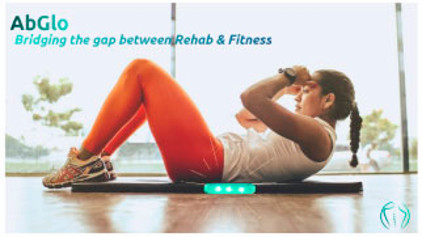 Though AbGlo is now part of Auburn University entrepreneurship fame, it was conceptualized inside a health club in Santa Barbara, California.
"When I went to my gym one day, Mad-Fitness Santa Barbara, I saw owner and operator Marianne Madsen trying to communicate with a back rehabilitation client how to push their lumbar region down correctly, and they were both getting frustrated," Michaels said. "Marianne remarked, 'If only there was a tool that I could see visually when people are pressing their lumbar down correctly.'"
Her wish became reality.
"That's when the lightbulb came on," said Michaels, who lives in Santa Barbara and works as a senior design transfer at Arthrex, a medical device company. "I said I could help her with that, whipped up a pressure sensor and LED light box, and returned the next day. We tried it out and it wasn't perfect, but it worked. From there, everyone in the gym got excited and asked when they could buy one."
AbGlo utilizes a flexible sensor that triggers lights, vibration and optional audio feedback when it is pressed flat by the lumbar area through the engagement of core muscles. Bluetooth connectivity facilitates real-time communication of the user's postural position. The team zeroed in on strengthening the transverse abdominus and pelvic floor muscles to significantly alleviate low back pain and improve fitness outcomes.
Michaels recruited the software expertise of Montague, also of Santa Barbara, and teamed up with Madsen to found M&H Innovations LLC in 2022. Just like that, AbGlo was born.
Madsen, Michaels and Montague, a systems engineering manager at Northrup Grumman, are no strangers to Auburn pitch competitions. AbGlo won the Thomas Walter Center "Special Category" Award in the 2022 Halloween Pitch Competition and continued to sharpen their skills by earning a spot in the 2023 Tiger Cage Student Business Idea Pitch Competition semifinals.
"We have been working really hard with the New Venture Accelerator for the past year," Michaels said. "Prior to that, I must extend a huge amount of credit to Dr. John Evans, Dan O'Leary and Dr. Richard Sesek in the College of Engineering for inspiring us through the product innovation courses. That is how this product got started.
"We are gearing up for Tiger Cage again this year, we have since learned a lot and have continued to grow."
The Halloween Pitch Competition serves as a stepping-stone toward future student business pitch rounds, including the Tiger Cage in Spring of 2024.
Twenty finalists reached the Oct. 27 final round, where pitches were presented inside the Broadway Event and Space Theater at Horton-Hardgrave Hall.
"The Halloween Pitch Competition has grown exponentially since we began this concept in 2019 and the business ideas just keep getting better," said Lou Bifano, director of the New Venture Accelerator. "This competition continues to diversify itself among the academic disciplines across campus, including business, engineering, forestry, human sciences, liberal arts, veterinary medicine, and architecture, design, and construction. Entrepreneurship and innovation continue to blossom across the region, and we'd like to think that Auburn University is playing a big role."
Media Contact: ,
jem0040@auburn.edu
, 334.844.3447
Auburn University's fifth-annual Halloween Pitch Competition was Friday, Oct. 27.