Student in mechanical engineering wins top prize, $2,350 at Graduate Engineering Research Showcase
Published: Oct 16, 2023 9:40 AM
By Joe McAdory
Ryan Pollard hadn't made an oral presentation until Thursday, October 12. Onlookers would have never known.
The first-year graduate student in mechanical engineering from Huntsville, Alabama, enchanted faculty judges with his three-minute spiel, "A Kinematics-Based Approach to Future Joint Angle Prediction," winning a cumulative $2,350 and the top overall prize in Auburn Engineering's 11 th Annual Graduate Engineering Research Showcase (GERS).
Pollard's haul: Best in Show. First place, oral presentation. Honorable mention, poster presentation.
"I love talking to people. I'm an extroverted engineer," said Pollard, a research assistant in mechanical engineering Associate Professor Michael Zabala's Auburn University Biomechanical Engineering (AUBE) Lab , who already holds bachelor's degrees in mechanical engineering and exercise science. "The love I have received from the Lord has manifested itself in my life as a love for people. I have a passion for rehabilitation robotics and for assistive devices that might be able to help people regain independence in their lives. My project takes a kinematics-based approach to exoskeleton control, attempting to provide a non-machine learning basis to joint angle estimation to inform assistive device actuation at the ankle. 
"I had no idea I was going to win this award tonight. I genuinely thought Thursday night's awards banquet was a great chance for free food."
Zabala was delighted that Pollard chose to work in the AUBE lab as a graduate student and noted that Pollard will soon submit work to be published in a research journal.
"The impressive list of awards he recently amassed at the Graduate Engineering Research Showcase demonstrates his commitment to doing high-impact research and his dedication to being able to communicate his findings to a broad-ranging audience," said Zabala, founder and chairman of XO Armor. "Myself and the rest of the AUBE Lab is proud of Ryan and all of his accomplishments. The best part is that he's just getting started."
Nearly 200 graduate students participated in Thursday's Showcase, presented annually by the college's Council of Engineering Graduate Students, and competed for a combined $8,250 in prizes. This year, however, was the first to offer both oral and poster presentation competitions. Best in Show – the overall winner – was a result of the top cumulative score from both.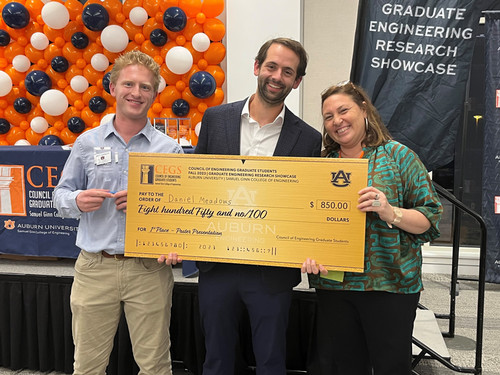 "The evolution of the showcase from just having poster presentations to also include oral research presentations before judges – many who had questions – elevated the Graduate Engineering Research Showcase to another level," said Maria Auad, associate dean for graduate studies and faculty development. "This competition gave students the opportunity to blend their presentation talents – something that could very well be useful for them in years to come."
Daniel Meadows, a graduate research assistant in chemical engineering and member of Professor Virginia Davis' research group, won first place and $850 in the poster competition for his presentation, "Extraction and Reclamation of Ethylene Vinyl Alcohol from Multilayer Polymer Films for Food Packaging."
Rounding out the remainder of Showcase winners were:
Yaqub Adeiji (second place, poster presentation), materials engineering, "Non-destructive Evaluation of Corrosion Status in Cables used for Aerospace and Energy Applications."
Vladislav Korostelev (third place, poster presentation), materials engineering, "Understanding Hydrogen Behavior in High-Entropy Alloys: DFT and Machine-Learning Insights."
Delaney Clouse (second place, oral presentation and honorable mention, poster presentation), chemical engineering, "Using Plant Waste to Form a Cyclic Agricultural System."
Segun Osibodu (third place, oral presentation), civil and environmental engineering, "The Development of Non-Proprietary Ultra-High-Performance Concrete for use in the Alabama Transportation Industry."
Valentina Nesterova (honorable mention, poster presentation), materials engineering, "Atomistic Degradation Mechanism of MXenes: First-Principles Analysis."
Shireen Singh (honorable mention, poster presentation), chemical engineering, "Exploring the Impact of Modulating Cardiac Differentiation of Hydrogel-Encapsulated Human Induced Pluripotent Stem Cells to Drive Second Heart Field."
Dale Hartmann (honorable mention, poster presentation), biosystems engineering, "Upcycling of linear polyurethane plastic via thermal decomposition into useable building blocks for existing market infrastructure."
Zachary Moore (aerospace engineering poster presentation winner), "An experimental investigation on the aerodynamic interactions of counterrotating-coaxial rotors."
Olumide Falana (biosystems engineering poster presentation winner), "Spatial Modeling of Floor Area Coverage within Specified Light Intensity Ranges for Brooding and Tunnel Ventilation in Commercial Broiler Houses."
Loyal Murphy (chemical engineering poster presentation winner), "A Tale of Two Models: How Knowledge Matching Differentiates Two Genome-Scale Models for Clostridium Tyrobutyricum."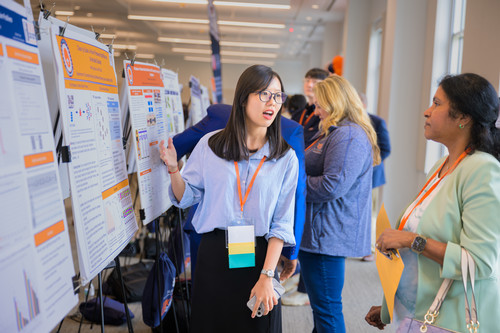 Alex Zhao (civil and environmental poster presentation winner), "Effectiveness of LED Enhanced Blinker WRONG-WAY Signs on Deterring Wrong-Way Driving: A Before and After Study."
Maryam Bigonah (computer science and software engineering poster presentation winner), "Transforming Agricultural Education: Harnessing Gamified Augmented Reality and Virtual Reality Mobile Application for Student Learning."
Sherman Peek (electrical and computer engineering poster presentation winner), "Electronic Packaging for Superconductive and Quantum Applications."
Eliana Pena Tibaduiza ( industrial and systems engineering poster presentation winner), "Forward-Reserve Problem in Order Picking Warehouses: Space and Product Allocation Problem."
Kiandokht Pakravan (materials engineering poster presentation winner), "The Effect of Lateral Size and Surface Functional Groups on Membrane Performance of The Ti3C2Tx MXenes."
Zane Oligee (mechanical engineering poster presentation winner), "Experimental Investigation of Additively Manufactured Cold Plates for Electronics Cooling Applications.
"This amazing display of intellectual and entrepreneurial excellence has grown every year during the past decade to what is a record this year," said Mario Eden, dean of engineering. "I would like to thank all the graduate students for their hard work, dedication to exploring scientific methods to solving real-world problems and passion for sharing these thoughts and ideas with their peers.
"I would also like to thank our judges, made up of faculty and alumni, for supporting our students and their research, and for taking the time to examine these incredible ideas and selecting the winners."
Auburn Engineering graduate students once had little opportunity to learn from one another.  Brian Thurow, former assistant professor in  aerospace engineering and now chair of the department, helped change that… and GERS was born.
"We knew there was a great deal of strong research taking place in different academic departments within the college back then, but there was no structured forum for students to exchange ideas," said Thurow, who served as the college's Graduate Recruitment and Fellowship Committee chair in 2012. "A graduate student could be here for five to six years working on a Ph.D., but not have an opportunity to see what others are doing. We wanted to create an event for that, and this generated a lot of excitement and people appreciated it. Several students came to me afterward and said, 'We really liked this. We'd be more than happy to help.' That was the origin of CEGS, which now runs this event."
Media Contact: ,
jem0040@auburn.edu
, 334.844.3447
Ryan Pollard won first place for oral presentation, honorable mention for poster presentation and Best in Show overall.