Auburn-educated astronaut Jan Davis explores family's flight legacy in new book
Published: Sep 8, 2023 3:00 PM
By Jeremy Henderson
She never heard his stories about the 21 months he spent in German prisoner of war camps. He never got to hear about the 673 hours she spent in space.
Fans of memoir, thankfully, are more fortunate.
Written by 1977 Auburn mechanical engineering alumna and retired astronaut Jan Davis, "Air Born: Two Generations in Flight" details the mutually motivated careers and aerospace accomplishments of both Davis and her father, Ben Smotherman, an engineer and Air Force B-17 pilot who was shot down over Holland in 1943. 
Released Tuesday, the book draws heavily from Smotherman's wartime journals, which Davis learned of only after reconnecting with her stepsister in the early months of the COVID-19 pandemic. 
"My parents divorced when I was four," Davis said. "Both he and my mother remarried. I didn't see much of him growing up." 
When she did see him, his life as a POW never came up. 
"My dad didn't talk about the war," Davis said.
But he wrote about it. He painted pictures of it.  
"He did cartoons for a hobby and he kept a wartime log that had paintings and drawings he had done," Davis said. "It's beautifully illustrated. When I saw it, that's when I thought, wow, this is a really amazing story. 
"I started researching the airplanes he flew, the places he flew to, and then, as I was researching, I realized the parallels of my own training, my own flying. I was connecting the dots. So, in the book, that's what I talk about. I talk about what he went through and what I went through. Fortunately, I also have the letters we began writing when I started flying airplanes after college." 
In addition to Smotherman's journals and Davis' original research — she flew to England in 2022 to visit the base where he was stationed — the book includes excerpts from their correspondence. 
"I am particularly pleased that you have chosen to be an engineer, and I know that you will be a good one," Smotherman wrote his daughter in 1982. "I sense the same creative drive in you that always possessed me. It will take you to the top."
Did it ever.  
After beginning her career at Texaco, Davis joined NASA as an aerospace engineer in 1979. After the Challenger disaster, Davis led a redesign of components for the Space Shuttle's solid rocket booster.
From 1987-98, she was an astronaut mission specialist; over the course of her three shuttle missions, she logged nearly an entire month in space.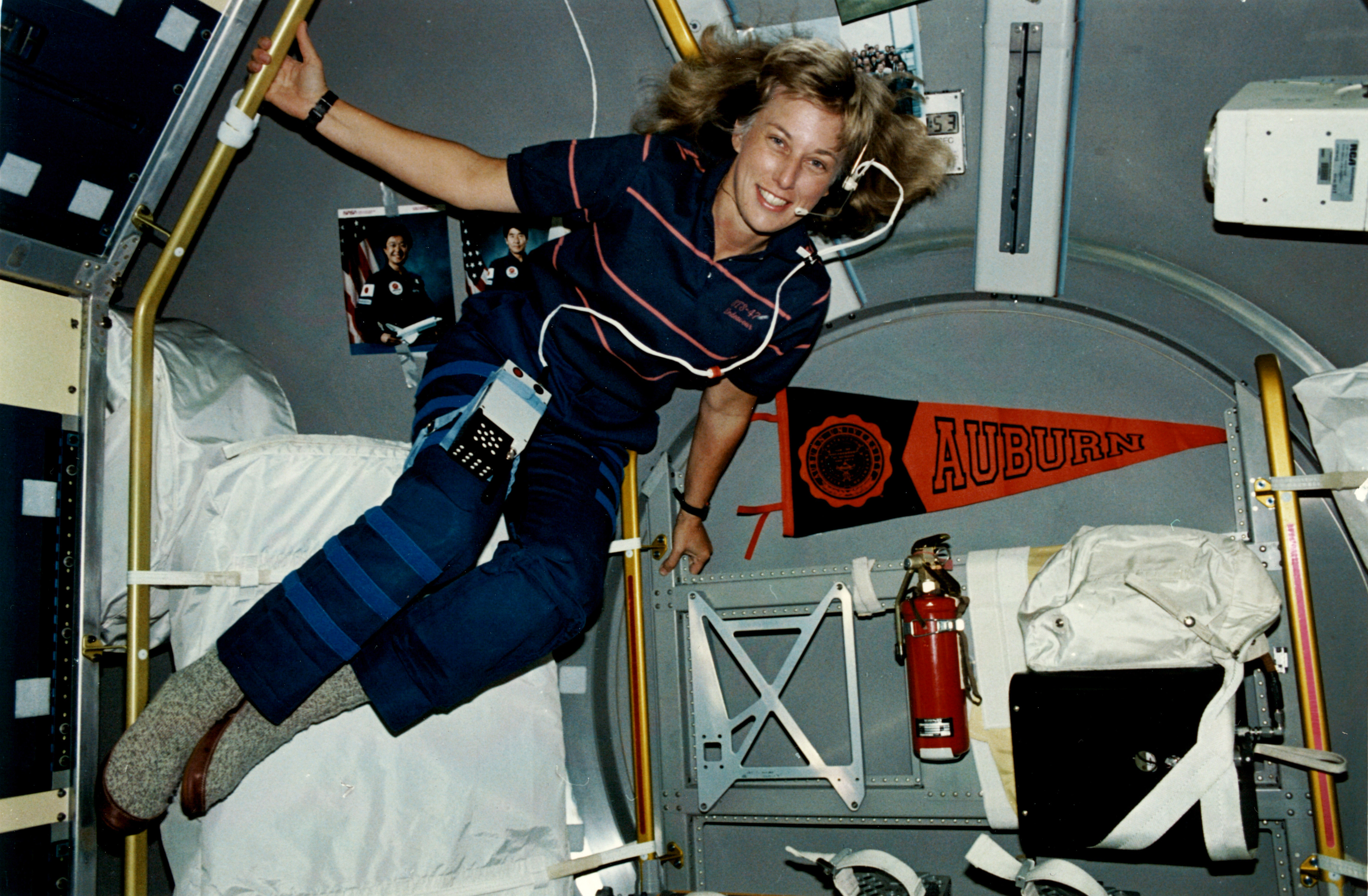 Later in her NASA career, Davis served as director of the Flight Projects Directorate from 2001-03 and as director of the Safety and Mission Assurance Directorate from 2003-05. From 2005-17, she was a vice president at Jacobs Engineering.
She thinks her father would have been proud. She knows it, actually. 
"He passed away in 1992 from lung cancer, just before my first (Shuttle) flight," Davis said. "I went to go see him before that. I got to see him at the Air Force hospital."
She made sure to dress appropriately.
"I wore my flight suit."
Media Contact: ,
jdh0123@auburn.edu
, 334-844-3591
The cover of "Air Born: Two Generations in Flight."