The rush of holiday shopping doesn't always bring us to crowded malls or our favorite outdoor shopping center. Instead, we shop on our phones, laptops, or other remote devices for the sake of convenience. Press a few buttons here and there, and you're done. Artificial intelligence (AI) built into these devices and web sites remember our credit card numbers, logins, addresses, preferences, and purchasing habits to make the shopping experience even easier. But have we been lured into a dangerous world of convenience at the expense of safety?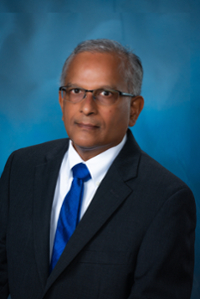 Hari Narayanan, chair of computer science and software engineering, and Gerry Dozier, the Charles D. McCrary Eminent Chair Professor in the college's computer science and software engineering department, spearhead the university's new AI@AU initiative. The scholars weighed in on the role artificial intelligence plays in today's shopping habits:
How has AI changed the way we shop?
Gerry Dozier: AI understands our preferences as well as the preferences of others. AI can provide us with suggestions for what may be a great gift to buy for someone as well as provide customers with contingency plans or alternate plans when shopping for gifts for family, loved ones, and friends.  AI can make shopping safer due to its potential ability to construct, maintain, and identify ones' cyber identity. This is extremely important in fraud detection.
What potential problems/dangers exist with the use of AI in retail and how can these be corrected?
Hari Narayanan: One danger is the loss of privacy, because by analyzing your purchases from a brick-and-mortar store or online store, AI systems can rather reliably predict what you will purchase in future and when. Some sellers use this to benefit customers and themselves by sending them coupons for those products. Others use this information to recommend to customers products that they may like. The tradeoff is the loss of privacy in that a corporate entity comes to intimately know our purchasing habits. Whether this privacy vs. convenience tradeoff is worth it is an individual decision. If privacy is more important to you, you can preserve it by not participating in frequent buyer programs and not purchasing from online stores that do not allow a guest account, i.e., force you to create an account in your name before you can make purchases.
Does online shopping via AI put us at an increased risk of ID fraud?
Hari Narayanan: The risk of ID and credit card theft/fraud primarily arises from online purchasing and using credit cards on credit card readers that are somehow compromised. I have not heard of AI increasing ID fraud. To the contrary, AI is increasingly used by companies to flag purchases that do not fit an individual's purchasing patterns and predicted purchases. Once these are flagged, credit card companies contact the customer to check the veracity of those purchases. This benefits the consumer as well as the companies.
Is AI helping the big box retailers, or is this taking business away?
Gerry Dozier: In a lot of ways, it has helped. AI has made big box retailers more efficient. However, we can see how Amazon has used AI, as well as the innovation that comes with it. Things are going to change. I'm just not exactly sure what it's going to look like.
Hari Narayanan: AI is helping big box retailers more than hurting them. AI enables them to make predictions about customer preferences, dynamically adjust pricing and determine when to hold sales and for what items, allows them to streamline their warehouse operations, and manage their supply chains. AI is not infallible, and its predications are heavily dependent on the data fed to those systems. When unpredictable events such as Covid or a war happens, or when the quality of the data is poor or the data is not representative of their customers, companies that rely too much on AI for their operations can suffer losses.
What is the future of shopping with AI?
Gerry Dozier: The sky is the limit. In the future, I see 'immersive' and safe AI-based shopping experiences where the user has an understanding of how their preferences impact the AI/ML-based shopping system and where users are in control for their resulting cyber identity that can potentially come as a result of their interaction with the system.
Media Contact: ,
, 334.844.3447