ISE student wins 10th Graduate Engineering Research Showcase
Published: Oct 21, 2022 2:45 PM
By Joe McAdory
More than 40,000 are killed in motor vehicle accidents in the U.S. each year. While fastening seat belts reduces risk of injury or death, it is not foolproof.
"Despite various technological advancements over the years, thousands are found dead with their seat belts on every year," said Shiva Nageswaran, a fifth-year doctoral student in industrial and systems engineering. "I'm trying to investigate what is happening and how we can change it. Seat belts are definitely the safest equipment protecting an occupant in a vehicle right now, but they need to be designed safer. We need to prevent as many fatalities as possible."
Nageswaran's study, "Significance of Seat Belt Buckled Release Force After a Rollover Accident," made an impression on more than 70 faculty and industry professional judges, winning the 10th annual Graduate Engineering Research Showcase (GERS), sponsored by the college's Council of Engineering Students (CEGS) Thursday, Oct. 20, at the Brown-Kopel Student Center Grand Hall.
"I started my PhD journey four years ago, working on a thesis that I knew could potentially save several lives," said Nageswaran, who earned $850 for first place. "I understood the true meaning of perseverance as I faced several challenges including the postponement of my research experiments for over two years due to COVID-19. This award means the world to me as it gave me hope and re-instilled my faith in my work. This award is a recognition of all the efforts I put in, and the challenges faced by me and everyone who supported me. It motivates me to keep working hard and continue to do ground-breaking research."
A record 177 students — representing all departments within the college — participated in poster presentations, allowing them the opportunity to exchange ideas among peers and compete for cash prizes.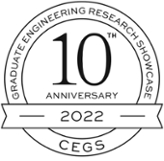 "Thursday was such a great event," said CEGS President Matthew Garnett, a doctoral student in chemical engineering. "Graduate students got to show off their awesome work that they have put in countless hours in preparing. Faculty, staff, alumni, industry representatives and students got to see a sample of the awesome work being conducted at Auburn. I was proud of the effort CEGS put into hosting the 10th Graduate Engineering Research Showcase. It was our largest to date and it was spectacular!"
Nageswaran spent time prior to Thursday evening's awards banquet collecting data for his upcoming dissertation — focused on seat belts.
"I'm working to ensure that seat belts are safer for children and adults," he said. "Part of my research is testing adults to see whether they can get out of a seat belt when they are in a rollover accident. The same thing with children, if they can get out when in a school bus in a rollover accident. My research is with human subjects, which makes it pretty challenging. To the best of my knowledge, this is the first time such a research study has been conducted."
Nageswaran, who earned a master's degree in industrial and systems engineering from Auburn has worked as technology team manager at the Auburn University RFID Lab since 2016 and has already co-published three papers on school bus evacuations: measuring evacuation time using RFID, evaluating the capabilities of children to unlatch a seat belt and implications of a lift level belt buckle.
Aerospace engineering student Jack Kovryzhenko took second place overall and the $750 prize for his work, "Quadcopter Trajectory Generation Using Finite Fourier Series and Polynomial Parimeterizations." Third place, and $650, went to chemical engineering's Farnaz Hemmati for the study, "Investigating Vascular Diseases Using Novel Fluidic Device."
Winning honorable mention and the accompanying $350 prizes were Jamie Newsome ( civil and environmental engineering), Tofayel Ovee (chemical engineering), Lokesh Silwal (aerospace engineering), Mousumi Akter ( computer science and software engineering) and Loyal Murphy (chemical engineering).
Departmental winners ($250 each) were:
Aerospace engineering: Rajan Bhandari
Biosystems engineering: Mehrzad Shahidzadehasadi
Chemical engineering: Daniel Meadows
Civil and environmental engineering: Md Fahim Salek
Computer Science and Software Engineering: Hairuo Xu
Electrical and computer engineering: Bhargav Yelamanchili
Industrial and systems engineering: Mashnur Rashid
Materials engineering: Chuanyu Wang ( 2021 GERS overall winner)
Mechancial engineering: Samsul Mahood, presented by Laura Baugh
Auburn Engineering research is built on five pillars: advanced manufacturing and materials, infrastructure and transportation, cybersecurity and intelligent systems, energy and environment, and biomedical and health systems. Auburn Engineering Interim Dean Steve Taylor, who previously served as the college's associate dean for research, took notice.
"These students' research projects are in line with the college's strategic focus and our priorities," he said. "It's fantastic what these students are doing. Everyone I spoke with here today was genuinely excited about their work and were eager to talk about their research."
GERS kicked off in 2012 as Aerospace Engineering Department Chair  Brian Thurow, who presented the awards on Thursday, recognized a need for graduate students across the college to exchange ideas through an organized forum.
"Dr. Thurow has meant a lot CEGS and GERS over the years and we were glad to be able to honor him on Thursday night," Garnett added. "Congratulations to all the winners and we can't wait for next year's showcase." 
Not only does GERS bring students together, but the event also harnesses the desire to leverage the quality of their respective research against peers, and recognize areas for improvement in presentation skills.
"Most of the posters you see, students spent hours working on them because everyone is very competitive," Nageswaran added. "Competitions like this really push you to do a really good job. We are very fortunate that Auburn provides us with a forum like this.
"I would like to thank my committee members and a special thanks to Dr. Richard Sesek for his unwavering support. I also want to thank fellow PhD students Bob Sesek, Nathan Pool, Savannah Maples, and other friends for their immeasurable help. Last and the most important thanks to my wife, Aishwarya, and my family without whom none of this would have been possible."
For more about Auburn Engineering's many graduate programs, visit:  https://eng.auburn.edu/current-graduate-students/
Media Contact: ,
jem0040@auburn.edu
, 334.844.3447
Graduate Engineering Research Showcase overall winner Shiva Nageswaran with, from left, Steve Taylor, interim dean, and Maria Auad, CEGS advisor and associate dean for graduate studies and faculty development.
Render