Masatoshi Hirabayashi grew up dreaming of becoming an airline pilot. However, a poor eye exam changed his career trajectory.
"I lost my dream, and I didn't know what I was going to do," said the assistant professor in aerospace engineering.
How about possibly save the planet?
Hirabayashi is among a team of NASA-supported scientists who will soon analyze if intentionally crashing a human-made object into a celestial object will change its trajectory. NASA's 1,345-pound Double Asteroid Redirection Test (DART) spacecraft, which launched last November in California, is projected to intentionally collide with Dimorphos – the moon of asteroid Didymos – on Monday, Sept. 26. Neither the Didymos system nor the DART impact on the Didymos system pose any threat to earth, but the asteroid system is a perfect testing location.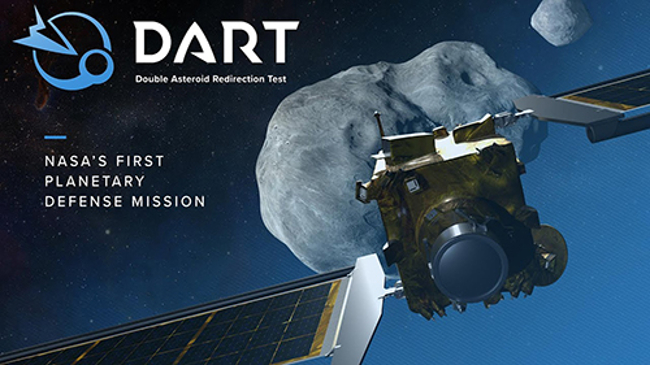 "The research is to assess how effective and efficient the kinetic impact would be," said Hirabayashi, who is a co-investigator on the DART mission team, which is led by the Johns Hopkins University Applied Physics Laboratory (APL) on behalf of NASA. "This mission is at the core of planetary defense. My role is to characterize this efficiency by looking at actual dynamic motion of the asteroid responding to the DART impact."
Hirabayashi, director of Auburn's Space Technology Application Research Lab, said impact will occur at roughly 15,000 mph when Dimorphos is closest to the earth (6.8 million miles away). Scientists will observe the impact from the ground via telescopes. "So far, the project is going very well. The spacecraft is healthy and on course," he added.
Questions to answer:
What behaviors will be observed?
How will this impact Dimorphos' orbital period?
What physical properties of the moon will be changed by impact?
The DART team estimates the collision will shorten Dimorphos' orbital period by several minutes. Telescopic observations after impact are expected to confirm that DART changed its orbital period and reveal by exactly how much.
Why target an orbiting moon, rather than an asteroid itself? Hirabayashi said choosing a binary asteroid target for this demonstration takes advantage of the fact that changes in the smaller asteroid's orbit around its larger partner can be more easily measured than changes in a single asteroid's orbit around the sun.
"DART is turning science fiction into science fact and is a testament to NASA's proactivity and innovation for the benefit of all," NASA Administrator Bill Nelson said. "In addition to all the ways NASA studies our universe and our home planet, we're also working to protect that home, and this test will help prove out one viable way to protect our planet from a hazardous asteroid should one ever be discovered that is headed toward Earth."
After DART's impact, Hirabayashi's responsibilities accelerate and continue for a full year.
"I will be working to maximize the outcomes," said Hirabayashi, who will be at APL in Laurel, Maryland for a month, beginning Sept. 22. "Once we receive data, then we can begin analyzing the data. These studies will provide the perfect foundation for future planetary defense research in the area of asteroid redirection.
"This is very thrilling for me, personally, and is great for Auburn University to be a part of this important mission that could provide data to help play a role in deflecting an asteroid from crashing into the earth. I'm really excited to have been part of the DART team for the past five years. This process has been quite intense and it has been a great opportunity to accumulate a new experience, build relationships, and be part of such an important space exploration mission."
Would Hirabayashi entertain the opportunity to become an airline pilot if the opportunity presented itself in the future?
"I wanted to be a pilot, and this does not change," he said. "But this is a great career path. I like being part of space exploration and becoming a pioneer in developing planetary defense strategies."
Media Contact: ,
, 334.844.3447