Should the rear springs be firm or soft? Do the front wheels have too much camber? What about ride height? Will increased, long-term speed be gained if the car is set lower to the ground? If so, how much?
Engineering know-how plays a major role the design of everyday auto mechanics – and is measured by performance on the racetrack. Twenty-two Auburn Engineering students are taking the opportunity to learn, and test, a variety of automobile setups – and applying them to performance-based activities – via iRacing, the world's most popular virtual racing simulator.
Dubbed Auburn iRacing, the team is a regular in the eNASCAR College iRacing Series, where $60,000 in scholarships are at stake during the Fall 2022/Spring 2023 season, where virtual NASCAR Truck Series and Xfinity Series cars have been used.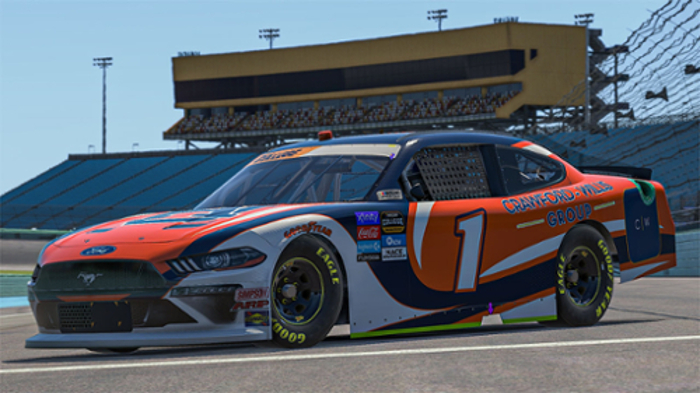 "As technology advances, we see real-life race car teams use simulators to prepare for race weekends," said Reece Baham, a junior in mechanical engineering, who serves as the team's director of competition and lead driver. "iRacing accurately replicates the cars and physics… this allows us to get hands-on experience and gain an understanding of how the car works without being involved with a real-life team."
Austin Wilson, who served as team president in 2022 and graduated in December with a degree in mechanical engineering, agreed.
"I genuinely believe this is like real-world engineering where it's not like in the classroom where there are clear-cut answers," he said. "You try a variety of setups out and collaborate as a team. This is really teaching the students to learn that we come up with the best solution, even if we don't know if it's right, but then test it, throw it on the wall and see if it sticks. If not, we try something else. You have to keep evolving, tweaking the setup.
"That's where the team aspect is so great. Everyone contributes with ideas and gives us the opportunity to maximize performance through trial and error. Not every engine or chassis setup is going to be the right solution, but it could be the best solution for the given circumstances, such as track temperature."
Faculty sponsor Andrew McGill, administrator for engineering recruitment at the college, said he purposely emulated the team after professional racing organizations: lead driver, president, marketing director, business director, and others who not only work on setups, but spend hours practicing. After all, Baham could use a teammate on the racetrack, too.
"What these students are getting exposed to is absolutely going to carry into the real world," said McGill, who manages the team's sole Logitech steering wheel and foot pedals simulation rig in a small office deep within the Brown-Kopel Center. With more funding, the team could use another one.
Whereas the extra time behind the wheel is expected to pay dividends for multiple team members, Baham isn't in need of extra coaching. The Richmond, Virginia, native carries an impressive 5,348 iRating (measure of driver skill where 1,500-2,000 is considered average), has 31 official iRacing wins to his credit and successfully qualified for all seven eNASCAR College iRacing Series events entered. Why is this important? Only 40 spots are available for each race with hundreds of drivers attempting to qualify.
"I qualified second and even led the first-ever recorded lap in the eNASCAR College iRacing Series in our first truck series race last season at Daytona," said Baham, who led seven laps.
But as luck would have it, Baham's Chevrolet Silverado was spun from behind while riding second roughly halfway into the race, sending him 14 laps down and into 29th place. "The driver in front of him missed a shift," McGill said.
"That ended my night," Baham said. "But it was amazing to be able to run up front and represent Auburn so well. That is certainly the highest drama moment so far."
Some students involved on the team wish to pursue careers in various mediums of motorsport. This organization provides them an outlet to utilize their engineering skills in a practical way and get a taste of what it's like to run a real race team.
"Sometimes those opportunities to work on race cars are limited due to either a small number of spots available or not having a race team in close enough proximity," Baham said. "Some iRacing setup engineers have gotten the opportunity to compare their notes to real-world counterparts and they have seen a close correlation between what occurred in the sim versus the real racetrack."
Wilson, who recently began work at Lockheed Martin in Marietta, Georgia, believes the opportunities to preside over a simulated racing team can pay dividends.
"I would like to grow into more of a leadership role as my career progresses," said Wilson. "This experience has helped me step into that – learning how to manage a team. This has given me a great idea of what it's like to manage and supervise people. What does it mean to set up a meeting? What does it mean to manage expectations between people? Some people want this thing. Others want might want same thing. How do we compromise? I've learned this through our iRacing experience.
"Just because the cars are virtual doesn't mean the racing isn't real. It very much is. I hope more people will see it as that rather than just some other video game. Current NASCAR drivers William Byron (Hendrick Motorsports) and Rajah Caruth got their careers started on iRacing."
Auburn iRacing continues to raise money in hopes of obtaining more simulators and more opportunities for students to virtually work on race cars.
"We have organized benefit nights at local restaurants, done raffles where students can have their face painted on the car for a race, etc.," McGill said. "We are trying to get creative in raising the funds for excellent equipment. The better the equipment, the better our students can perform."
Those interested in supporting Auburn iRacing are asked to contact Andrew McGill at (334) 844-2249 or mcgill@auburn.edu.
The eNASCAR College iRacing Series 2023 season returns Feb. 21 when the series visits Dover Motor Speedway. Other spring dates include Michigan on March 21 and Daytona on April 25.
Media Contact: ,
, 334.844.3447